uStepper Robot Arm Belt
The uStepper Robot Arm, which is based on the industrial palletizer robot was introduced during our Kickstarter campaign in 2015. Two iterations later we had the uStepper Robot Arm currently available on our shop and our GitHub. For the uStepper Robot Arms 3 years anniversary we now present the 4th and latest iteration!
From the former design we have made some improvements: 
Reduced number of plastic parts (~20 parts less than the former design) 
Reduced number of unique screw sizes 
Reduced backlash through use of belt drive instead of gears 
Increased stability with both horizontal and vertical bearings + shoulder screws for main axes 
No gluing of parts – uses screws instead 
More compact design 
More powerful metal gear servo for gripper 
Simpler gripper design 
The uStepper Robot Arm has the advantage of being scalable by adjusting rod lengths and thereby making the range of motion scalable!
Customer statement (current Robot Arm revision):
"For students within robotics and control-and-automation we have for some semesters enjoyed the capabilities of the uStepper palletizer robot as a pedagogical instrument allowing students in a safe manner to conduct experiments in robot motion planning and motion control. We consider "easy-to-use" experimental facilities such as the uStepper palletizer indispensable in bridging the gap between theoretical knowledge and fully operational competences. The uStepper palletizer with its thorough mechanical design comes closer to a real life down-scaled industrial robot than many other experimental robotics setups in our lab and as such allows students to safely experience almost "real life" situations."  
Henrik Schiøler, Associate Professor, Automation and Control Aalborg University
uStepper Delta
We just love Robots! So we designed a Delta Robot using the same electrical setup as the uStepper Robot Arm!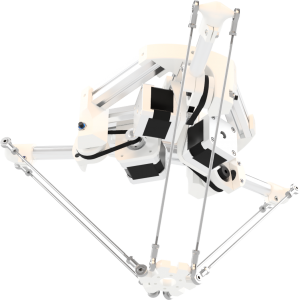 The uStepper Delta is designed with the mindset that it must consist of a limited number of parts and be simple to assemble!
The uStepper Delta has the advantage of being blazing fast at moving light objects within a limited work area. Like the uStepper Robot Arm the uStepper Delta is designed to be scalable by changing rod and aluminum bar lengths.